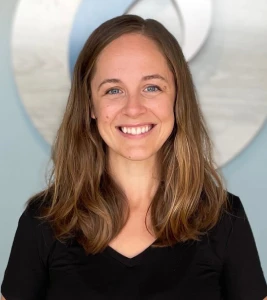 Danielle Pontus
Physiotherapist
Education
You might be surprised that I…
About Danielle
Originally from Yellowknife, NT, Danielle attended McGill University in Montreal, graduating with a Bachelor of Science in Kinesiology in 2010. She then completed a Masters of Physical Therapy at the University of British Columbia in 2013.
Since graduating, Danielle has worked in private practice and has taken many continuing education courses for exercise prescription, manual therapy, pain science, and dry needling (IMS). She combines hands-on therapies with active rehabilitation and education.
She feels strongly about creating an individualized program for her client that fits as seamlessly into their lives as possible. Having been on the receiving end of a physiotherapy-prescribed exercise program (or two), she knows that it must be meaningful and convenient.
Danielle was fortunate enough to be involved in almost every activity imaginable in her youth, from speed skating to kayaking to varsity-level badminton. Now, she likes to keep active by walking, running, and sometimes biking the incredible trails the Island has to offer. She and her partner are "training" their new little one to do the same! Ask her for her recommendations on where to go; she'd love to hear yours.
Danielle is a native, although somewhat rusty, French speaker and offers services in both English and French.
Danielle joined the Parkway Physiotherapy team in 2022, coming to us from the CBI Health clinic in langford.